Hi I'm Vic. I often have questions about makeup brushes. Do you bother about what makeup brushes to buy? What brands, what size and what price?
Here, I will share with you the brushes that I find essential, but especially in what price range to take them. Indeed, it is not always necessary to invest 20 € in a brush when you can find the equivalence and have the same result. Conversely, there are certain brushes which require more budgets, because there is a real difference between the "cheap" and the "high end".
And you, are you more cheap or high-end brushes??
The fluid foundation brush:
♥ Its usefulness: I have a preference for round brushes , very dense in the square or even in the dish. I find the application simpler.
♦ Price level: Better to invest . It is an essential brush, it requires a good density of hair and a good hold also.
For powder or mineral foundations, this type of brush can also work. It is better to choose it round and dense in order to grip the material and be able to camouflage its imperfections as well as possible.
Shopping: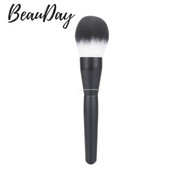 Single brush by BeauDay
https://makeupsponge.en.alibaba.com/pro ... 58c7kqadIE
The concealer brush
♥ Its usefulness: For concealer, I prefer a thick ball brush , this allows a thin and uniform application.
♦ Price level: No need for an overpriced brush . I use a brush from an amazon kit and the latter does the job very well
Shopping: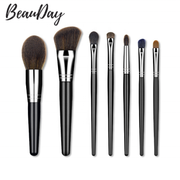 BeauDay makeup brush kit
The loose powder brush
♥ Its usefulness  : To fix your complexion, there is nothing better. Whether for the entire face or simply the T zone. The large brush allows you to apply the powder in finesse.
♦ Price level  : good news, no need to buy an overpriced brush . A kabuki or a basic powder brush is more than enough. Above all, it must be dense and soft.
A Kabuki can also do the Job after it is a matter of preference =)
Shopping: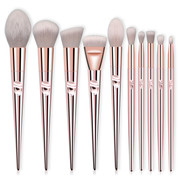 Gold BeauDay Brush Kit
​​​​​​​Contouring & Strobing "Bronzer and Highlighter" brushes
These two brushes are not essential, but you may want to have them.
The fine-tipped ball brush for tanning
♥ Its usefulness: This brush is perfect for having a natural result with a bronzing powder. Flat brushes are ideal, but require a certain grip and good work.
♦ Price level: I advise you to invest in a good brush for once. It is precise work that requires a balanced and dense brush.
As always, we do not forget to blend in order to reduce the intensity of tanning.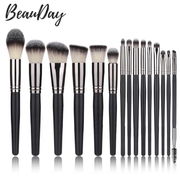 But what is a good brush? How to recognize it?
A good brush is above all soft! It is super important, if you can touch it in "real" pay attention to the softness of the hairs . It will touch your face, so far as it's pleasant.
The density, a brush provided is a brush that will work the material well . They also need to be flexible. A too rough brush is not a guarantee of quality.
Finally, the cut. You need a regular cut (even if a hair or two goes live, just cut what protrudes). The hairs must stand, the shape must remain after the movement.
Is the price always a guarantee of quality?
Yes and No, because it is not a brush is signed MAC that it will be better than a brush at a low price. Everything is a question of practice, of comfort.
I have favorites at BeauDay​​​​​​​, in ready-made kits ... They are not necessarily "worse" than the high-end.
hope that it will be useful for you to find your way in the Jungle Brush
And you, how do you buy your makeup brushes?
I wish you a good day
Kisses